With the crazy world of mobile phones and new applications, there starts to become a lot of competition in the market. Anywhere you turn, "there's an app for that". That CAN be catchy, but what does it really mean?
As a business, it means you are constantly updating your app for the different operating systems available. It means you are constantly trying to make improvements and implement them to each platform. It means you are receiving never-ending "bad ratings" because one function of your app doesn't work properly.
For your users, it means every time a business updates their app, you have to update it on your phone before you can use it again. What does that mean if your customer is sitting at the wash, ready to enter the bay, and they can't wash using your app simply because of an update? Frustration. Irritation. The possibility they just leave and you lose that revenue.
When it comes down to it, you shouldn't have to force your customers to download an app and continuously update it simply to use your services. At least that's what we believe here at WashCard. Ease of use should be the first thing in mind when it comes to switching from classic payments over to mobile.
what do the statistics say?
The statistical data around mobile apps also prove it can be a very tough market to actually stay in. Most users have anywhere from 50 to 100 apps on their phone, but only use about 6-10 of those each week! On average, smartphone users download 8.8 apps per month, 25% of which are never even installed, and 26% of those that are installed are abandoned after the 1st use. Retaining those customers is even harder.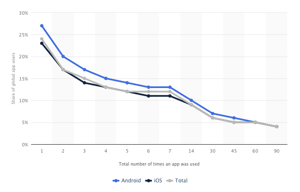 Studies show the mobile app retention rate falls under 5% after 90 days. If you are a car wash, or business owner, those numbers should be scary if you are looking for an app to help earn revenue. How likely are your customers going to download, use, and keep the app on their phone? Evidence shows here, not for long.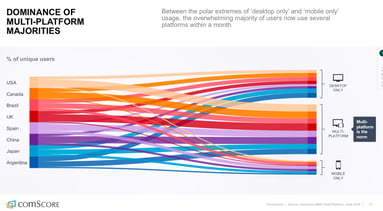 This is why WashCard has taken a web-based approach. There are NO downloads, or updates, nor are there concerns of lost revenue due to an app not working properly. While apps are taking the world by storm, users are still looking for platforms which fit across mobile and desktop. Can you view your Snapchats from your desktop? At this point, you can't. And while that might be ok for some users, for others it's a nuisance.
Beyond the stats around mobile app usage, there can be security issues with apps. Have you ever asked yourself the question if the app you are putting your credit card information into is secure? Companies like Fandango and Credit Karma have even fallen victim to having security issues within their apps.
All in all, when it comes down to mobile app usage, there can definitely be some benefits. However, if you're working with a company who isn't willing to put the time, money, and effort into building a quality app, you could run into some major security issues and loss of revenue. Don't become a victim in the ever-changing mobile world. Take a look at WashCard's mobile payment web-based solution for your business. It integrates payments and loyalty just like our software has for nearly three decades. It could be just what you've been looking for all along.